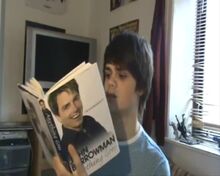 Chris is turning into a zombie and there's nothing he can do about it.
This the first time we see Chris dancing in his video.
Although he claims he's got 100 subscribers, in reply to one of the comments he says he did a mistake ('I think I had 150').
There is a couple of Shaun of the Dead references:

He's eating a strawberry-flavoured Cornetto. The film is a part of The Three Flavours Cornetto trilogy, a series of British comedic genre films created by Edgar Wright and Simon Pegg. The film features a strawberry-flavoured Cornetto.
He also makes the same facial expression that Simon Pegg does while pretending to be a zombie.
You can see Amelie, Marilyn Monroe, and Army of Darkness posters, along with many others.
There is a Doctor Who calendar hanging above Chris' bed.
He's reading Anything Goes by John Barrowman, a British-American actor, singer, presenter and writer. Although Chris said he borrowed this book from a friend (yeah, right), we're not seeing the last of it.
Take a note: a cure for the zombie infection consists of bleach and shaving foam.
Chris gets rickrolled for the first and last time on camera.
Memorable quotes
Edit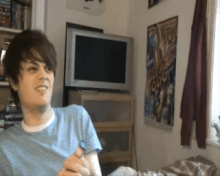 Even though zombies are eating brains, I've got 100 subscribers. I don't know how many of them are still alive, or if they're hiding, or anything like that, but I think in this time of darkness there's always time to celebrate.
I don't want to eat brains. I don't want to eat soft brains, soft juicy brains.